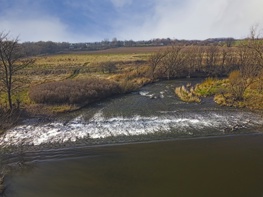 The River Leven and its tributaries are a vital part of the local landscape in Fife, as well as being a great asset to the communities that live alongside them.
They provide a wide range of benefits, including:
Wildlife corridors for plants, insects, and animal life.
Opportunities for recreation, such as fishing and water sports.
Natural flood management.
Well-being, such as places to spend time and relax.
Physical modifications, including dams, narrowing, and straightening, resulting from the areas industrial past and designed landscapes, has put significant environmental pressure on these waterways.
We are currently working hard to deliver two projects that address some of these challenges. One focuses on a 2.5 mile section of the River Leven between Windygates and Leven, and the other on a section of one of its tributaries, the Back Burn, flowing from the Lomond Hills.
The projects have been commissioned by Fife Council and the Scottish Environment Protection Agency (SEPA), supported initially with funding from the Water Environment Fund (WEF) and Fife Council.
Fife Coast and Countryside Trust (FCCT) are managing both projects from concept design through to delivery on behalf of Fife Council.
While the key aim of the projects is about restoring the river corridor. it is critical to their success to connect with local communities and for them to have a say in how the projects are developed.