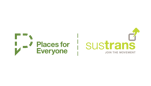 The Connectivity Project is the Leven Programme's flagship project. It looks to transform walking, wheeling and cycling in the Levenmouth area.
The wider ambition of the project is to connect Loch Leven to the Firth of Forth through a world-class active travel network alongside the River Leven and surrounding communities, enabling local people and visitors to travel sustainably along the entire 26km length of the river with connections to public transport hubs, residential areas, schools, shops and places of work.
We are currently working on delivering the first stage of our vision, which focusses on the Levenmouth area and a 5km stretch of the river from Cameron Bridge to where it meets the Firth of Forth at Leven. This is called the Levenmouth Connectivity Project.
This work is being funded by Sustrans Scotland and Transport Scotland through the Places for Everyone programme. Funded by the Scottish Government, Places for Everyone aims to create safer, more attractive, healthier, and inclusive places by increasing and diversifying the number of trips made by walking, wheeling, or cycling for everyday journeys.
What does the Levenmouth Connectivity Project involve?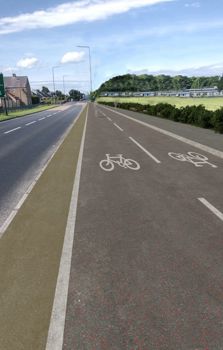 The project aims to reconnect the communities of Leven, Methil, Methilhill, Buckhaven, Windygates and East Wemyss to each other and the river, through the creation of a safe and attractive active travel network that is accessible to all.
The network is being designed to accommodate the needs of those walking, wheeling and cycling in the area, so that they can confidently travel safely around Levenmouth.
In 2020, Amey Consulting were commissioned to carry out an assessment of an on-road active travel network across the whole Levenmouth area. Iglu Studio were commissioned to develop proposals for an upgraded path network within the River Leven valley area which would connect to the wider active travel network. Through this process, routes were identified that will provide the greatest benefit for communities. These proposed routes were then shared with local people for feedback in 2020/21.
We have now opened consultation with local people again regarding finalising the routes as we enter the detailed design phase before starting construction in 2023.
The proposed routes as they stand at present are shown in the map below. Click on the image to view full size.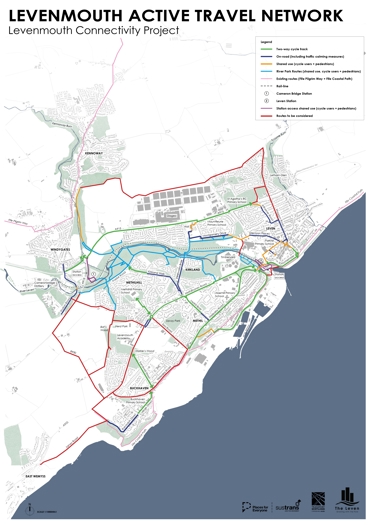 What types of improvements will be made on Levenmouth's roads?
The project has been split into two pieces of work, that are being worked on collaboratively to provide one, connected network:
On road active travel network - We are looking to upgrade approximately 24km of Levenmouth's existing roads and paths to accommodate the safer travel of walkers, wheelers and cyclists traveling. Of this, 10km will be segregated from vehicles. This part of the project is being managed by Fife Council on behalf of The Leven Programme.
River park routes - We are also looking to upgrade existing paths as well as creating new ones along the River Leven, linking residential areas and allowing communities to access the river and existing assets of the area. This part of the project is being managed by Green Action Trust on behalf of The Leven Programme.
Several changes will be made to roads and footpaths that have been identified as being key routes in the area. Depending on factors such as road widths, crossings, parking spaces, etc., will determine which measures can be applied at certain points along a specific route.
The proposed changes include:
Providing separate cycle lanes from the main carriageway, where possible.
Traffic calming for on-road cycling.
Improved on-road crossing points.
Walking, wheeling and cycling connections between areas of housing, shops, schools, and workplaces.
Connections to rail stations.
Improved rail and river crossings.
Providing shared use river park routes with associated seating, lighting and planting improvements.
Improved surfacing for active travel.
How could these changes look?
Segregated walking and cycling
A segregated cycleway separates people walking/wheeling, people on bikes and vehicles, giving each group their own space. See the examples below of how two-way segregated routes could look along College Street, Buckhaven, and the other linking Leven Promenade to the new Leven Rail Station.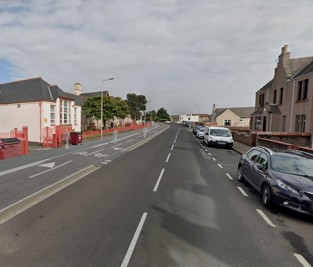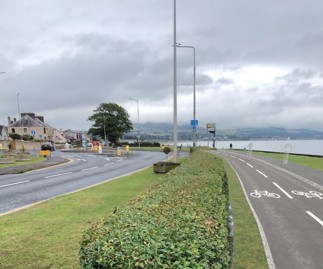 Shared use paths
These paths are designed to be shared by people walking, wheeling and cycling, and are suggested mostly in areas away from traffic and close to green space. See the example below of what a shared use path could look like in the proposed river park area adjacent to Poplar Road.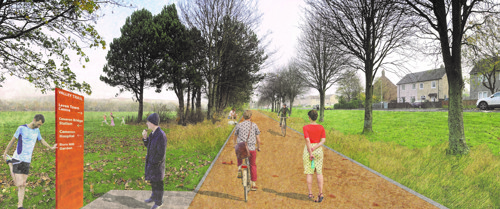 Traffic calmed, on-road cycle routes
On these sections, footway improvements, traffic calming, and on-road cycling is suggested.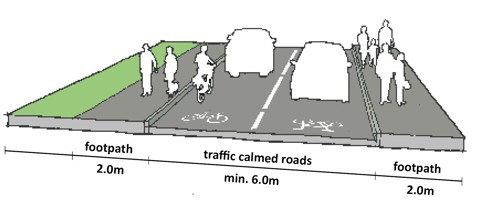 Leven Rail Link
We are working closely with Network Rail to ensure that the active travel network links up with the new rail stations at Cameron Bridge and Leven. Construction of these improvements will be our initial priority to ensure they are delivered in time for the station opening in 2024.
Community involvement
Community input and feedback is a key part of the design and delivery of the Levenmouth Connectivity Project. Over the past few years, we have worked closely with many community groups, schools, businesses and local people to gather their input into the routes. We will continue to work and communicate regularly with all interested parties to ensure that the routes and their design reflect the needs of the local communities.
There will be key points during the Levenmouth Connectivity Project design phase where we will be looking for community feedback on our proposals.
However, we welcome feedback or questions from local people, groups, and other interested parties at any time. If you would like to get in touch, please email us.
Behaviour Change Action Plan
The Behaviour Change Community Action Plan proposes actions that encourage more people to walk, wheel and cycle in Levenmouth and complements the proposed active travel network being developed in the area.
The plan was developed as a co-production with the local community, facilitated by the Sustrans Communities Team. A steering group with local community organisations and stakeholders was also formed to develop the plan and continue to meet on a monthly basis to oversee the implementation of the plan.