Climate Beacons for COP26 is a project, created by Creative Carbon Scotland, that aims to use culture, heritage and the arts to bring more people into the conversation about climate change. This project was inspired by COP26 – a global conference about climate change which this year will be hosted in Glasgow.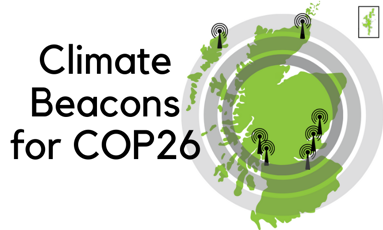 There are only seven Climate Beacons across Scotland – and Fife is one of them! The Fife Beacon is a partnership between the Leven Programme, Levenmouth Academy and ONFife. However, we would like to involve as many people as possible!
We would like to use our Beacon to explore:
Our proud industrial heritage and its relationship with nature
The climate impacts we face in the mid-Fife region
The vision we have for our future and how we can make it a reality.
Throughout this journey, we would like to bring people together by holding creative events and activities. These activities can be anything including song writing and production, public art exhibitions, nature walks and exploration, film production and parades.
We want to hear people's stories, learn about climate change and share our experiences with the rest of Scotland and the world – most importantly we want to have fun while doing it!
If you have ideas or would like to be involved, please get in touch.
Current Beacon projects